Reviewed: Essential Install Live South 2015 trade show
Now into its fourth year, trade show Essential Install Live South was back at its Sandown Park venue with the same format as last year, including two days live training events. Inside CI turned up on the second day and found it reassuringly busy, installers enthusiastically working the floor. There was no commercial side on the upper floors, as rumoured last year, but plenty of exhibitors showing their wares on the ground floor.
First stop for us was Amina Technologies for an early look at the new ALF120 in-wall subwoofer, and stablemate ALF80. Utilising a unique adjustable ported design, both blend into any room environment by mounting within walls, ceilings, cabinets or other joinery. Measuring just 605mm x 270mm x 156mm and weighing less than 9.2Kg, the ALF80  is a passive model able to deliver 108dB SPL/ 1m with frequency response down to 36Hz. It's designed to be connected directly to a dedicated full range amplifier output. No additional filtering is required when used in conjunction with Amina Invisible Loudspeakers. Parallel connection with a single Amina Invisible loudspeaker is also possible. Very impressive!
At the CEDIA stand, we caught up with Steve Carter who was flying the flag for the association. With CEDIA's much loved awards only weeks away, the organisation was busy explaining to dealers how to market themselves via award schemes. Wise words indeed.
Habitech had a busy stand, not least because of the the addition of its new Habitech iD range of home AV solutions. Integrating assorted technology, such as heating, lighting and IT within an overall interior design is always a challenge. The Wall-Smart range of flush-fitting, décor-matching wall-mount systems is an award winning line of flush, paintable mounts for residential control screens, lighting and air-conditioning keypads is available for Apple devices, as well as a wide range of popular control, AV and lighting systems, including Crestron, Control4, Philips Dynalite, NuVo, Sonance, Savant, RTI, Luton Homeworks and Rako.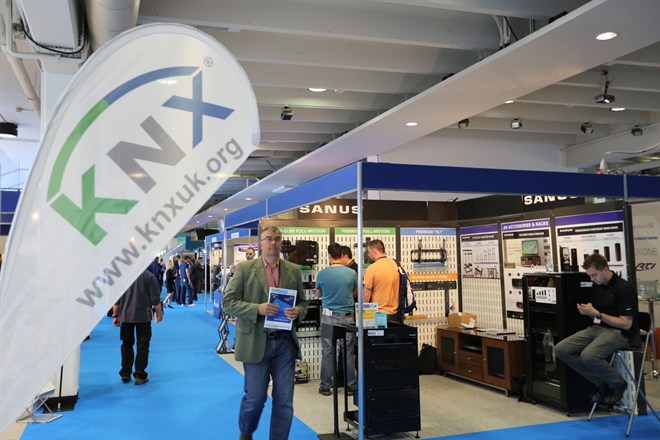 Habitech MD Jonathan Pengilley described Wall-Smart as the perfect solution for interior designers looking for an aesthetically pleasing wall-mounting solution. "The iPad has become the control screen of choice for many integrators," he told Inside CI "and so its seamless integration with décor should be a high priority if you're looking to achieve a perfectly coordinated blend of electronics and interior design."
Upstairs in the Royal Box, Arcam had a great sounding cinema featuring a Sony 4K VPL-VW1100ES projector offering very  high quality images. The brand's new UDP411 Blu-ray was spinning the silver discs. The VW1100ES can generate 2,000 ANSI-lumens of brightness and uses SXRD 2160p panels, which in combination with the brand's latest auto-iris tech, achieves a dynamic contrast claimed to be around 1,000,000:1
All the usual suspects were present. HD Anywhere and Wyrestorm had impressive lines of 4K capable matrixes with the usual demos going on. Invision, hot on the heals of its own Home Technology Showcase, had the new range of speakers from Origin, with IP camera solutions from Lilin and the Nest range of thermostats and smoke detectors also on show. Every aspect of the intelligent home was covered.
As usual, it was a vaulable opportunity for networking too. The show offers a great platform for this, but with the likes of Habitech, Invision UK and AWE Europe now all doing their own shows we just wonder how this older format can continue to grow. Still, all the installers we spoke remained positive about business levels, and that the growth in CI appears steady.
For more from the show, fire up our Photo Gallery below...